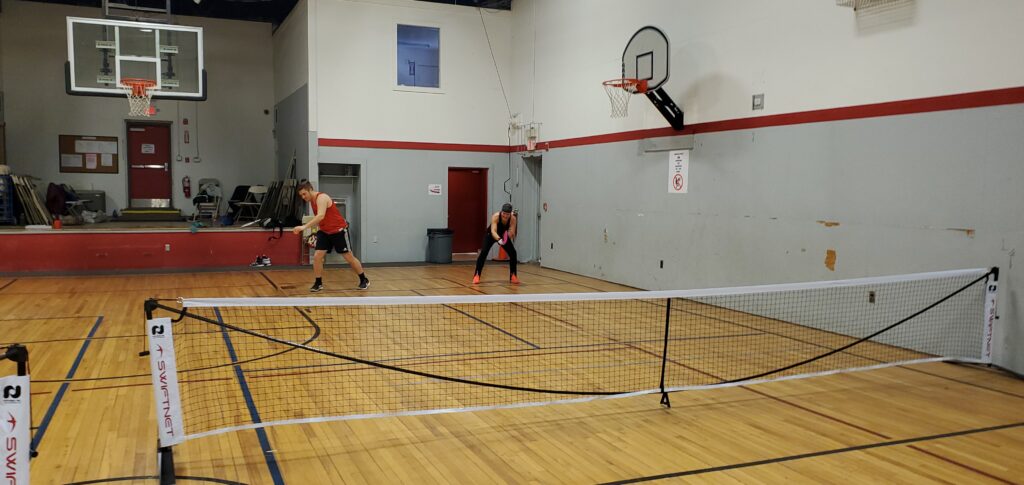 Litchfield Pickleball Association (LPA) is an association of pickleball players, mostly 50+, although we have no age restrictions and have members in their 20s, 30s, and 40s. In fact, we need some young blood to keep improving the quality of our games. LPA sessions are scheduled 7 days per week at Talent Hall in Litchfield, NH. Talent Hall is owned by the Town of Litchfield and is administered by the Litchfield Recreation Commission. We have over 130 active players and we run about 24 sessions per week. Since we have a mix of player skills and inclinations, we have Recreational, Competitive, and Advanced sessions. New players always begin in Recreational sessions to assess their level of play.
We all desire to improve our skill level and knowledge, so this website offers numerous blog entries on coaching tips, as well as information on local pickleball tournaments and links to other valuable pickleball sites.
Talent Hall is an indoor facility with 2 courts, so we are capacity constrained. We use a web-based signup process so as to limit attendance to 12 players per session.
In addition to Talent Hall, the Town of Litchfield has striped the Sawmill Brook Park tennis courts with pickleball lines and is also building 6 designated pickleball courts on the same site to open in Summer of 2023. Thus, outdoor pickleball in Litchfield is available during fair weather months.
Directions to Talent Hall: click here
If you want more info about us, check out the Membership page. If you have additional questions, please send us an email at litchfieldpickleball.board@gmail.com